Frequently Asked Questions
International Shipping from China to Singapore:
Premium Air Shipment is $8 for first 500g, $4 for subsequent 500g.
(Estimated 12 days arrival after spree closure)
Goods under 500g will be charged as 500g

Volumetric Weight (KG) = Length (cm)*Width (cm)*Height (cm) / 6000

For light or bulky item, shipping cost of all shipping methods is charged based on the larger one between volumetric weight and actual weight. Items to be charged by volumetric weight are like shoe box, soft toy, diaper, sweater and etc...

*Note: Sensitive items are being charged extra $3.50
(Liquid, Cosmetic, Electronics, Adult items)

Agent Fee
8% of first payment & shipping fee

Handling Fee:
1-10 items: $1.00 per item
11-20 items: $0.90 per item
21-30 items: $0.80 per item
31-40 items: $0.70 per item
41-50 items: $0.50 per item
51-60 items: $0.30 per item
>60 items: $0.20 per item


The Exchange Rate for the month is 1 SGD : 4.75 CNY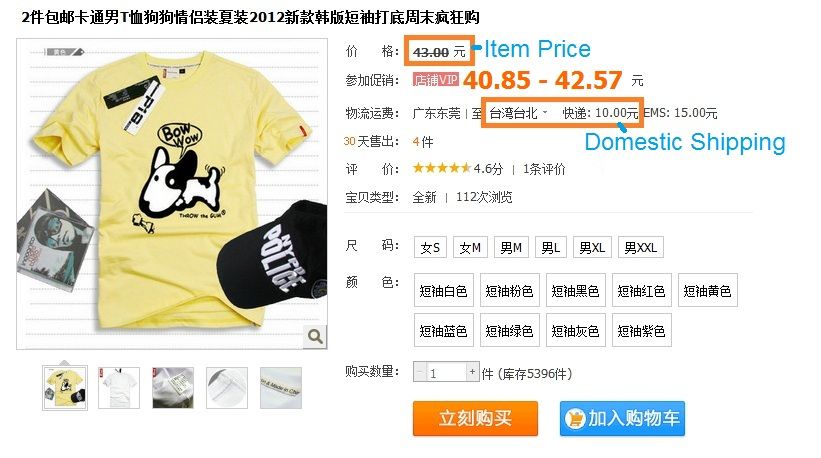 We don't take the 店铺VIP price because we are not the shop's regular customer.

(Taobao Item Price) + (Domestic Shipping Fee) = (1)
(1) / Exchange Rate = (2)
(2) + Handling Fee = First Payment

Weight x Premium Air Shipping Cost = (4)
Agent Fee: (4) + First Payment = (5) x 0.08 = (6)
(4) + (6) = Second Payment

You will schedule a collection method after the items arrived in Singapore.
We have a few collection methods.

1. Self Collection at Serangoon MRT/ NEX Shopping Mall
Timing will be at 6.30 to 8pm, Monday, Wednesday, Friday & Saturday.
(No self-collection other than the timings given)
It will be totally free if you self collect yourself at Serangoon MRT Station or NEX Mall.
(**Do note that if you failed to meet up schueduled timing twice, we will not entertain the third meet up. Please opt for home delivery.)

2. Singpost Postage Services
You can check out the rates at Singpost's website!

3. Home Delivery by Ladrelis
(Normally 7.30pm-11:30pm from Mon to Fri) or (1:00 pm - 10:00 pm on Saturday & Sunday)
Only S$10 nett
*Home delivery will be arranged within 1-2 working days upon receiving payment and delivery to residential address only;
Camps, Airport, Sentosa, Downtown East and other remote areas are excluded.

Volumetric Weight (KG) = Length (cm)*Width (cm)*Height (cm) / 6000

For light or bulky item, shipping cost of all shipping methods is charged based on the larger one between volumetric weight and actual weight. Items to be charged by volumetric weight are like shoe box, soft toy, diaper, sweater and etc...

Example:
If a soft toy's actual weight is 0.30kg with dimension of 20CM*25CM*5CM
Volume weight: 20*25*5/6000=0.417kg
We will take whichever is higher.

We only accept Cash Deposit, ATM Funds Transfer & Internet Banking Funds Transfer from POSB/DBS Banks.
Our Bank Account No is: POSB Savings 249-01998-4
Yes! If you meet the criteria given, you will immediately enjoy the member's benefit on that purchase!

| | Member | Agent Fee | Criteria |
| --- | --- | --- | --- |
| | New Member | 6% | Join as member |
| | Bronze | 5% | Single purchase more than S$250, or total purchase more than S$500 within 3 months |
| | Silver | 4% | Single purchase more than S$500, or total purchase more than S$1000 within 3 months |
| | Gold | 2% | Single purchase more than S$1000, or total purchase more than S$2000 within 3 months |
These items are categorized as sensitive items. You can buy these items, but no more than 150ml for liquid. We're using a special shipment for these items, therefore, a charge of $3.50 will be imposed on each item .
*Do note that we do not ship air tight food/ consumable items from china online platforms.
One spree usually take no more than 2 weeks to arrive to Singapore, unless there is special circumstances (eg. typhoon, public holiday in china etc.)
There is no minimum orders you must get. But we suggest you to get more than 500g of goods as will charge 500g if the total order is less than it!